Learning how to get more action on your Google Business profile can be challenging, we know. What we also know is that the effects of figuring out how to get more Google Business reviews can change your business completely. More reviews mean more visibility. More visibility will bring more customers.
When it comes to how Google can impact your business and your revenue, the sky is the limit. What you need to do is always stay up to date with what Google expects of you in terms of SEO and good practices, and always be one step ahead of your competition. That is where our team here at QRs life comes in to save the day. Let's explore the main tips and tricks our experts identified for getting more (and better) Google Maps reviews.
Why are Google Maps reviews important for your business?
But first, let's make sure we are on the same page in terms of what Google reviews are and how the whole process works. If you are a small business owner, you probably already know that most of your competitors appear in Google searches with tons of Google Maps reviews.
If your competitors have a Google Business account, that automatically means that they can be found on Google Maps, where people who visit their location or contract their services have a chance to give their two cents about the quality of those services.
Google Maps reviews have an immense potential to boost your business. That is mainly because of the amount of credibility online reviews generally have.
For most average users, Google reviews play a huge role in how they decide what business they choose for their needs, what restaurants they eat at, what bars they go to, or where they do their grocery shopping.
A business with a strong online profile and a good rating from as many Google Maps reviews as possible will always outrank other similar businesses in Google searches and will generally be chosen instead of the weaker ones.
How Google reviews work
Imagine for a second that you are on vacation in a completely new location and you need to get something to eat. What do you do? You pull out your phone and look for a restaurant. You get several options:
Restaurant 1 has a 3.8-star rating from 2,000 reviews
Restaurant 2 has a 4.9-star rating from 210 reviews
Restaurant 3 has a 4.2-star rating from 10,200 reviews.
Which one do you choose? I am willing to bet that your first choice is going to be restaurant number 3. That's because the rating is good and well above average and the number of reviews is overwhelmingly above the rest.
Now, when you get back home from your vacation, you need to learn how your business can become "restaurant number 3" in Google searches.
Why Google Reviews Matter
Here are some Google Review Statistics
98% of customers check reviews on Google before making a purchase. Google search statistics show that 54% of searches include a brand name. This means that customers check your business online before actually using your services or walking in your location
58% of people read at least one Google review weekly. The takeaway: Google is one of the most trusted platforms when it comes to searching for the truth. A good reputation on Google means your business is actually worth it.
92% of people claim that reading positive reviews for products and businesses increases the chances of them actually making a purchase.
77% of customers claim that they would leave a review for a business if they were asked to.
How to increase Google business reviews?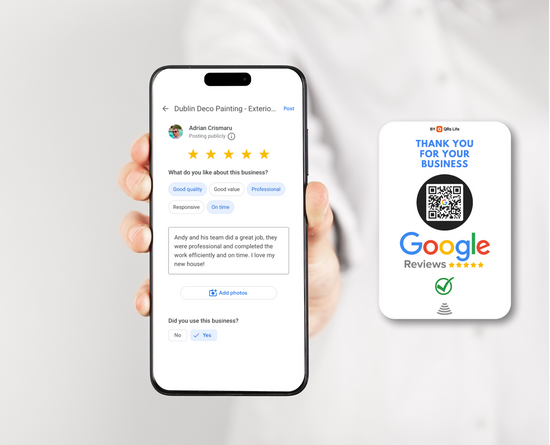 Of course, the first thing you need to do is obvious: get yourself a Google business account and fill out absolutely all the information you are willing to share about your business.
Another super-obvious thing to keep in mind is that if you want many positive Google reviews, you will need to offer good services.
Now, one of the main problems most of our customers have to face is that despite offering top-quality services at competitive prices, they do not receive as many positive reviews on Google Maps as they might wish. This is where some tweaking of the process will make a huge difference.
Use best practices
As mentioned above, creating a reputation for your online business is going to require you to build a strong foundation first. You need to start building the ground floor the right way before starting to think about the next levels.
That means that you will need to:
Know Google's policies: Before you even start thinking about how you can influence your reputation online, you will need to understand what Google needs and wants, what it can offer, and what it needs in return. Read the policies, understand the process, and register your Google Business profile with utmost attention to detail.
Make your business a Place on Google Maps: In order for your customers to be able to leave reviews for your business, it will need to be listed as a "place" on Google Maps. Get this done as soon as possible and be accurate about the location. Add photos of your place if possible.
Verify your business profile: A Google Maps listing is not going to be yours before you verify your profile to prove your ownership over that listing. You will need to create and verify a Google Business profile in order to gain control of your listing on Google Maps.
Ensuring that this is done correctly and that your ground floor is able to sustain what you are planning to build on top is step one. After this, things start getting more interesting.
Understand the process of leaving a review
Another important thing to keep in mind is that you will need to make sure this process is as easy and quick for your customers. You will need to put yourself in their place and understand what they need to go through in order for you to receive a review.
The process is usually something like this:
Open Google Maps or search for business on Google
Find your business
Click on it to see all its details
Scroll all the way down to the bottom of the page to find the reviews section
Write the review.
Now try to understand what exactly would determine you to go through this process to help a business. Would you do it for everyone?
Chances are nobody actually has the time to review every business they interact with on a daily basis. That is why you need to stand out in more ways than one. Firstly, your services need to be impeccable, to determine people to actually want to share their amazing experience with others.
And second, you will need to think of ways to make the process easier for your customers.
Create a Google review shortcut for your website
This is where you can start making things easier for your customers. Instead of forcing them to go through the entire process described above, you can actually choose to make things quicker and simpler.
You can take advantage of a feature Google Business is offering, which allows you to create a special link that is unique to your business and directs visitors straight to your Google Business review page.
This means that instead of going through a 5-step process, your customers will only be left with a 2-step process.
Create a page on your website dedicated to Google reviews
Your website should have a dedicated page for Google reviews. This is where you can actually embed code from your Google Business account and create a special place for your customers to explore your reviews and add their own directly from your website.
This page is going to be a great place for prospective customers to see what your services are all about, and how your other customers see your business, and will probably help them decide whether they should visit you or not.
Since most reviews will be relevant for your business from an SEO point of view (keyword-rich and unique), you also have a great chance to actually rank with this page on a series of low-volume keywords.
Use CTAs
You should consider encouraging your website's visitors to visit your dedicated reviews page. Add CTAs throughout your content asking them to access the page and leave a review.
This will not only encourage your past customers to leave reviews, but will also push prospective customers to visit the page and see what others say about your business, products, and/or services.
Just ask in person
Since the main topic here is how to increase the number of Google Maps reviews for your business, it's probably safe to assume that your business has a physical location. That means that you also have direct contact with your customers.
Either you personally or your employees interact directly with the people visiting your store or location. That means that you or your employees will get a chance to ask customers face-to-face to review your services or products.
As mentioned above, statistics show that 77% of consumers claim that they would review a business on Google Maps if they were asked to. Not only that but Google includes this strategy as an accepted and recommended practice for increasing the number of reviews your business gets on Google Maps.
Explain to your customers how quick and easy it is
As much as we would probably hate to admit it, people are generally lazy and scared of novelty. They are busy with their own lives and don't like committing to making much effort without seeing something in return.
That is why it is always important to remind your customers that adding a Google Business review is going to be a very easy and quick process. This will considerably increase your chances of success and will influence the number of people you get to convince to leave a review.
Run an email campaign
Another thing you can do to increase the number of Google Maps reviews is to take advantage of your email campaigns to entice people to access your Google Business profile and leave a review if they liked your services or products.
Whether you dedicate an entire email campaign to increasing the number of Google reviews or simply add a CTA (call to action) in the campaigns you send for different purposes, the effects are usually going to be positive either way.
Use social media to ask for Google reviews
We all know that social media can have an immense power in the right hands. If you learn how to harness the power of social media to drive your brand identity to new heights, things can change massively for the way your business runs and how your revenue comes.
If you have a decent following on either one of the major social media platforms available, chances are that you will be able to increase the number of Google Business reviews considerably by simply asking your followers to share their thoughts about your services.
Ask your partners/vendors
While there are certainly many other better options out there, you can always go ahead and ask your partners or vendors to review your services.
It's true, they might not be your customers, but they do have some insight into how you run your business. They are your partners, so they therefore know how serious and trustworthy you are, how badly you are trying to provide top-level services and products, and how committed you are to using top-quality vendors.
Respond to your Google reviews
Be involved. As a business owner, you should make sure that as many Google reviews as possible have a reply on your Google Business profile. Whether it's a thank you for a positive review or an apology for a negative one, people will appreciate the fact that you are involved and that you are giving them a voice that is actually heard.
People are a lot more likely to leave reviews if they see that others who shared their thoughts have received a response.
Probably the best and most effective way to increase the number of reviews on your Google Business page is using a dedicated resource for this exact purpose. Google review cards are an amazingly efficient tool and will work wonders for your business and your online reputation.
Here's how they work:
You order your QR code Google review cards from us (ideally one card for each employee of yours who interacts with customers)
You instruct your employees how to use them and how to ask your customers to review your services
You or your employees approach customers asking them to scan the QR code or use the NFC tap option which will take them to a specially designed custom page
THIS is where things get really interesting and where our services get separated from everything else you will find on the market today.
Your customer will reach a special page on their phone where they will be asked how happy they were with the experience they had with your business.
If they select the happy emoji indicating that they were very pleased, they get redirected to your Google Business page where they can instantly leave a review
If they select a less happy emoji indicating that the experience they had wasn't up to par, they will reach a different page where they will fill out a form to share their experience. The content of this form will be sent to you privately as an email.
As you can see, using QR code business cards for Google Business reviews is not only a very facile solution for your customers, but also provides you with a couple of important benefits.
The main benefit is that you get to filter out negative reviews to a certain extent, which will ensure that your online reputation will be spotless, taking your business and your revenue to new heights.
Final thoughts
Mastering the art of getting more reviews for your business on Google Maps definitely has the potential to improve your online reputation and therefore the number of customers and your revenue.
It's important to keep in mind that Google actually encourages you to ask customers to share their experience with you leaving a review and that you will get amazingly useful feedback from every customer who takes a minute to talk about the way your business works.